KSAT Virtualized Ground Station Architecture for increased flexibility across the ground network.
KSAT has developed and deployed a modern software-defined ground station architecture. A key technology component of this architecture is the use of Digital-IF, often referred to as RF-over-IP. In addition to the Digital-IF technology, KSAT uses software applications which are hosted at the ground station's cloud environment to provide required signal processing functions such as modems, FEPs, ranging and other algorithms.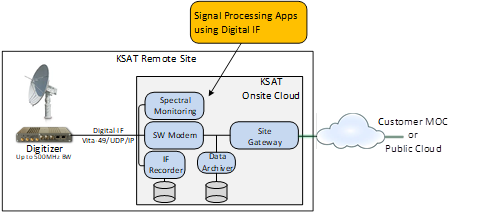 KSAT's design philosophy with this architecture is to digitize the full RF spectrum by the antenna and transport the spectrum via the ground station's LAN. Once digitized, the RF spectrum can be connected to software processing applications hosted on the ground station's cloud platform. This decoupling of the RF interfaces and signal processing functions provides KSAT with significant flexibility to support multiple waveforms and quickly adapt to new missions.
KSAT's virtualized ground architecture has allowed us to scale our world leading ground network at an accelerated rate to meet the needs of both the traditional satellite industry as well as the fast paced smallsat and startup market.
What opportunities does this enable satellite operators?
Increased flexibility across the ground network

for

on-demand

scheduling

Reduced investment/CAPEX in ground network

s

and reduced cost of services

Quick and smooth onboarding process

Faster adoption of new waveforms and standards

in the

KSAT

global network