KSAT is providing the polar ground stations in the Arctic and Antarctica, in addition to other sites in our interoperable global network, with the intention that this scalable model will lead to new approaches for ground segment operations in the future.
Kenneth Olafsson, Sales Director Asia at KSAT explains, "We have followed Astroscale for many years and were excited to partner for the ELSA-d mission. KSAT had a central role during the successful launch and LEOP phase, providing mission critical support from our unique polar ground stations in the Arctic and Antarctica, and will continue to provide seamless connectivity during the complex demonstration phase from these polar stations in combination with other parts of our interoperable global network. KSAT has developed and deployed a modern software-defined ground station architecture enabling us to grow together with Astroscale as this scalable model will lead to new approaches to ground segment operation and new commercial opportunities in on-orbit servicing in the future."
So, what makes this mission special?
ELSA-d consists of two spacecraft: a Servicer spacecraft designed to capture and remove a defunct satellite, and a Client spacecraft that poses as the space debris. Each spacecraft requires a dedicated mission control system and a team of operators for the mission to be successful. Both are operated by Astroscale's Mission Operations team at the In-Orbit Servicing Control Centre (IOCC) at Harwell Campus in the United Kingdom.
Gene Fujii, Chief Engineer at Astroscale Holdings says, "ELSA-d will be a milestone moment in space engineering as we demonstrate the world's first commercial debris removal mission; ground segment is one of these critical capabilities that is instrumental to our mission success."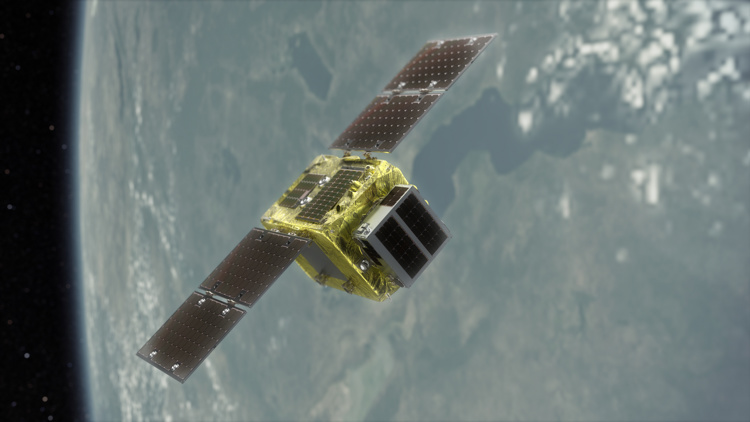 In space, minutes matter
For the Servicer to perform complex manoeuvres, such as capturing the Client with a magnetic docking plate — in both tumbling and non-tumbling scenarios— the control system via the ground stations must be in constant contact with the spacecraft for up to 20-30 minutes.
To deliver this extended period of continuous contact, Astroscale's Ground Station team requires seamless connectivity as the spacecraft manoeuvres, and the connectivity changes from one ground station to the next. A total of 16 ground stations across 10 countries will support these efforts during the ELSA-d mission.
Astroscale UK's Head of Ground Systems Engineering, Alberto Fernandez, explains, "A typical LEO mission's connectivity ranges from 10-15 minutes, with 1 or 2 ground station providers in a couple of locations. We have sought 20-30mins connectivity with four partners in 16 locations. ELSA-d is performing complex demonstrations, that have never been done before, and we need a very reliable and unusually long chain of connectivity to provide a constant real-time data feed throughout the demonstrations."
Fernandez adds, "A typical mission uses ground stations in the poles to maximize download contact times. We had to carefully select the ground stations and providers to maximize the duration of the constant contacts. Stations were selected following the ground track of the spacecraft in addition to the poles."
The Ground Segment partners for ELSA-d are KSAT, SSC, ATLAS and Viasat, along with Astroscale's own ground station in Totsuka, Japan.
Alexandra Gravereaux, Senior Ground Segment Engineer at Astroscale UK, says, "Reliable and continuous connectivity must be maintained with both of our spacecraft during three critical demonstration phases of the mission. We're performing real-time, on-ground data processing from our cameras mounted on the satellites, receiving both photos and videos, performing image processing and calculating the manoeuvre plan using our flight dynamics to successfully capture the Client satellite."
From one piece of space junk, to multiple
John Auburn, Managing Director of Astroscale UK and Group Chief Commercial Officer, concludes, "Astroscale's network of ground station providers will be critical to our commercial on-orbit servicing plans for the future. As we move forward, we will develop our capability to remove multiple pieces of debris during a single mission. To continue pioneering in the on-orbit servicing sector we need reliable expertise from ELSA-d Ground Station partners to assure our connectivity. We are continuously learning how to optimize our efforts during this mission, and we will continue to advance our ground segment approaches as we roll out our End-of-Life Services in the coming years."
Watch the ELSA-d Ground Station team in action.