From minutes after lift-off through separation from the launch vehicle, KSAT provides TT&C communications from our global ground station network, a combination of unique polar ground stations in the Arctic and Antarctica, as well as from an extensive set of strategically located mid-latitude ground stations. Reliable and frequent communication is essential for the safety and success.
Ed Stevens, Director of Space Systems at In-Space Missions Limited, a customer launching for the first time, said "Working with KSAT has been a great experience: their responsiveness and customer service have been excellent and the extensive reach of their global network is exactly what we need for Faraday Phoenix and our future missions."
LEOP support from KSAT means having a team of highly skilled and experienced engineers on duty 24/7 to make sure communication is stable. The team provides voice-loop engineering support, customer-ops connectivity verification as well as real-time search and troubleshooting, having the knowledge and well- proven procedures in place.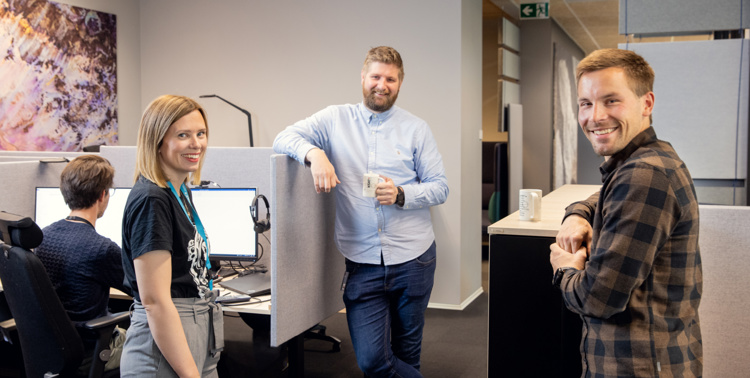 Unmatched ability to tackle high volumes
KSAT has an unmatched ability to tackle high volumes across the network as well as simultaneous support capacity, having invested heavily in both technology and automation as well as our approach to customer satisfaction.
Hawkeye 360, a customer of KSAT since many years, continues to grow their constellation having launched their third cluster of RF sensing satellites on Transporter-2.

Lorin Metzger, Director of Space, HawkEye 360, said: "HawkEye 360 keeps KSAT busy, since we're rapidly growing our constellation of RF sensing satellites and always have plenty of data to download,". "KSAT has been very supportive to our needs, bringing three new dedicated dishes online at Svalbard to handle the demand. And they were fully operational in time to be used for our HawkEye Cluster 3 launch, the latest satellites we placed into orbit. The system worked flawlessly during the critical moments post-launch, allowing us to make contact with the satellites at the first opportunity after they were deployed. KSAT has been providing live remote support after every launch and is committed to be available as long as necessary to confirm contacts."
Svalbard Ground Station- an essential asset for mission success
Close to the North pole, the favorable location of the Svalbard Ground Station provides frequent access for spacecraft. With more than 100 antennas and growing, from big to small dishes, Svalbard has proven to tackle single satellites and big constellations during critical operations. Swiss-based company Astrocast is building and operating the most advanced and sustainable Satellite IoT Network and is already a long-time partner of KSAT.
Several Astrocast satellites were onboard the launcher, to further expand the capacity of their IoT network.
Federico Belloni, co-founder, and CTO at Astrocast, said: "Supporting our satellites for years, the Svalbard Ground Station has proven to be an essential asset for both critical and routine mission phases for our growing constellation. Rapid access to data is vital for our Global IoT network service. The unique polar location plays a significant role in our success.
Decades of experience
Supporting LEOPs is something KSAT has been doing for decades and has been brought to perfection by the KSATlite team.
Atle Ursfjord, KSATlite Programs Manager, said: "We are very pleased with how the Transporter 2 launch went. Every mission is extremely important and receives our full attention. Our team of highly skilled project managers, system engineers and developers have been doing a fantastic job leading up to the launch, securing this excellent result".