The Sentinel 1-3 missions are part of the European Copernicus Programme for Earth Observation that systematically acquires data to measure the health of Earth. The first of the Sentinel satellites was launched in 2014. Today there is a total of six Sentinel satellites for these three missions in orbit belonging to ESA, in addition to the Sentinel-5p and Sentinel-6 missions.
Migration to Cloud based architecture
The KSAT Ground Station at Svalbard has downloaded data from Sentinel 1-3 since the missions were launched. The transition to cloud-based operations for Copernicus started a few years ago. It has led to a more modern and reliable way of data handling, allowing, among others, to remove technical issues with data tape management (used to back-up acquisition data at Ground Station premises) and reduce the need for on-site operations and support. In the context of the Copernicus Ground Segment transformation KSAT made a significant step from analogue to digital data management and storage.
- The X-band acquisition services were the first Ground Segment element to migrate to a Cloud based architecture in the frame of the overall Copernicus Ground Segment transformation; KSAT, as Svalbard Ground Station operator, was a key player of this transformation ensuring flawless operational continuity while implementing and operating an innovative, flexible and robust technical solution for the X-band acquisition services, Copernicus Ground Segment Service Manager Francesca Cipollini says.
From tape to cloud
One "hands-on" effect that can be noticed in the daily life at the station, is that 600 kg of tape cartridges is removed.
- All our earth observation systems are cloud capable, however the Sentinel data acquired has, until recently, been stored on magnetic tape cartridges in our premises at Svalbard, Sentinel Service Manager Jenny Jonsson explains.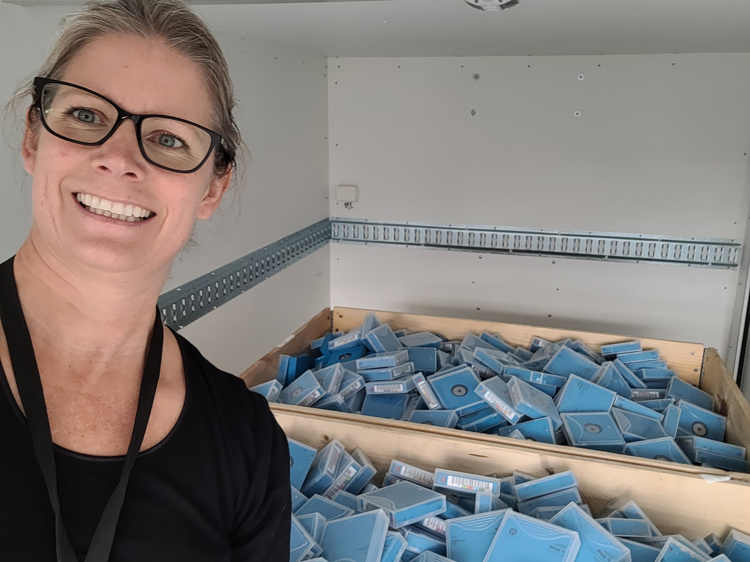 A cartridge contains a magnetic tape with a significant storing capacity, each handling up to 1,5 terabyte data. An operation engineer at KSAT had to feed tape cartridges regularly and manually to a tape library for each mission, as this could not be done automatically. Every time the 20 tapes in one library was filled with data, it had to be replaced with fresh tapes.
- The process was time consuming for the operation engineers, spending hours in front of the systems to replace used tapes with new, and to store the used ones for a contracted period, she explains.
Highly resilient acquision service
A cloud-based solution of handling and processing data was the answer, and KSAT was able to propose a highly resilient acquisition service which was selected to support the transformed Copernicus Ground Segment.
- We had an initial transition period of a couple of months, but now everything has moved over to the cloud solution and going smoothly, Jonsson says.
Image credit: contains modified Copernicus Sentinel data (2020), processed by ESA