Increased solar activity in recent weeks has provided opportunities for many in the Northern Hemisphere to view the aurora borealis at latitudes where it typically is not visible. Although a wonderful experience for many, not all solar activity may be as benign. Recognizing the potential threat solar storms can pose to radio communications and electronic equipment, the U.S. National Oceanic and Atmospheric Administration (NOAA) has implemented a program of space missions to monitor and provide early warning of potentially disruptive solar events. The next such mission, Space Weather Follow On (SWFO), is planned to launch mid-2020s to Earth-Sun Lagrange Point—1 (L1). From L1, the observatory will monitor solar activity.
SWFO requires a ground architecture unique for weather missions with always-on communications for resilient near-real-time delivery of mission data to NOAA scientists. U.S. government prime contractor KBR will deploy the SWFO Antenna Network to serve this purpose. As prime contractor and integrator, KBR selected Kongsberg Satellite Service (KSAT), a leading ground station service provider, to implement a communication solution for the Europe-Africa and Asia-Pacific regions. The KBR and KSAT team are developing a blended network including U.S. government ground station sites with KSAT-owned capabilities delivered as a service.
KSAT has a long history of delivering robust space-ground communications for NOAA, global space agencies and commercial operators. The SWFO Antenna Network blended design of government- owned and KSAT-delivered commercial service solutions provides high value and technical capability. NOAA and SWFO will benefit from a lower-cost commercial solution, while maintaining high confidence in operational performance delivered through a contractually binding service level agreement.
"KSAT provides all Outside the Continental United States (OCONUS) SWFO Antenna Network (SAN) services, including X-band telemetry in support of the space weather mission to ensure effective navigation and safety of SWFO-L1. KBR determined commercial services for OCONUS requirements provide greater flexibility at lower cost to the program," said Monica DeShong, KBR SWFO SAN Program Manager.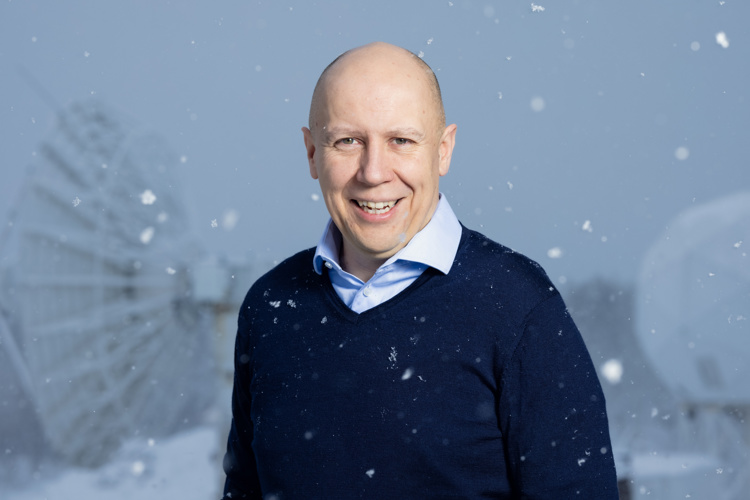 The KSAT global ground station network is built to serve a range of mission needs. These full-motion tracking antennas deliver more than one million unique satellite communication contacts per year. Unique aspects of the SWFO mission, including its L1 orbit and long-duration contacts, require new interface developments and will lead to KSAT delivering more critical capabilities for deep space and lunar missions through their purpose-built lunar ground network.
"KSAT has a long history of excellence in providing high-value mission solutions for critical space programs, said Amund Nylund, KSAT Chief Operation Officer. "SWFO requires a next-generation ground architecture with its always-on, low latency communications needs and L1 orbit. This is an exciting opportunity for us to realize capability beyond-geostationary orbit (GEO) with a purpose-built network. We are working collaboratively with KBR to provide efficient and reliable delivery of SWFO mission data."