KSATlite – the Ground Network for smallsats and constellations – provides the NanoAvionics missions with frequent opportunities for data reception and tasking. KSAT uses flexible software defined basebands allowing for rapid integration of new missions.
As part of a partnership with NanoAvionics, the interoperability of NanoAvionics satellite platforms and the KSATlite network has once again been demonstrated. This allows NanoAvionics and its customers to efficiently make use of the global KSATlite ground station network. This capability significantly de-risks LEOP and commissioning activities by relying on a well-proven and reliable setup.
– KSAT is thrilled to witness that NanoAvionics is growing their mission portfolio and we are committed to continue the global expansion of KSATlite ground station network to help our customers achieve world-class data delivery and operational excellence. We know our cooperation will have a bright future, Arthur Merlin, product manager of KSATlite says.
KSAT is in the process of a major expansion of the KSATlite network, with more than 45 antennas across all continents, including Antarctica.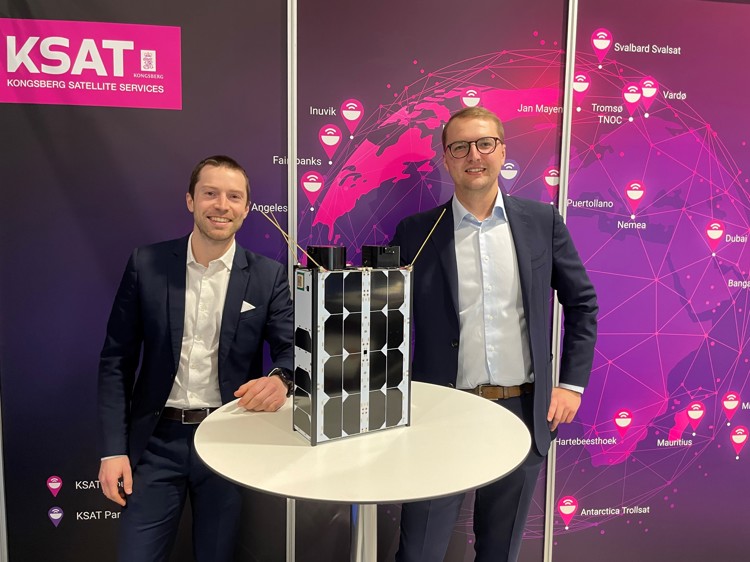 The companies already have a long partnership – in 2019 consortium partners NanoAvionics, KSAT and Antwerp Space were awarded a grant from the European Commission's Horizon 2020 and ESA's ARTES programs for developing a global nano-satellite-powered "constellation as a service" solution to offer network operators easy and low-cost access to space-to-ground communications. Since then KSAT have supported multiple NanoAvionics satellites with a broad use of ground stations including polar and mid lat stations. Recently, the companies have extended the agreement for several soon to be launched satellites, built by NanoAvionics.
– Most of our customers require end-to-end satellite mission solutions, which include not only small satellite platforms, payload integration and satellite testing services, but also launch and mission operations. Thus, forming long-term partnerships with top providers in the industry is one of the top priorities for our business. KSAT is one of the most reliable GS providers around and after the first commercial mission for us to demonstrate that our systems are fully compatible with KSATlite back in 2020, now we are glad to run our mission operations via the KSATlite gateway for multiple customers and offer them expanded mission operation capabilities, Vytenis Buzas, CEO and co-founder of NanoAvionics says.
ABOUT KSAT
Kongsberg Satellite Services (KSAT) is the leading provider of Ground Network Services and Earth Observation Services. KSAT owns and operates a ground station network of both polar and mid-latitude stations. The four polar ground stations are uniquely located in Tromsø at 69°N, Svalbard Satellite Station (SvalSat) at 78°N, Inuvik Station at 68°N and the Antarctic station (TrollSat) at 72°S. The company handles 75 000+ passes per month and has expanded its existing ground network of over 260 antennas across 25 sites.
ABOUT NANOAVIONICS
NanoAvionics is a smallsat bus manufacturer and mission integrator currently based in five locations across the US, UK and Lithuania. The company's efforts are focused on enabling critical satellite functions and optimising their hardware, launch and satellite operation costs by providing end-to-end small satellite solutions - ranging from single missions to constellations. Its core engineering team has implemented over 90 successful satellite missions and commercial projects during the past several years. With modularity as the fundamental principal of NanoAvionics systems' architecture, NanoAvionics provides economic viability to a wide range small satellite constellation-based missions, businesses and organizations worldwide.
www.nanovionics.com | Twitter: https://twitter.com/NanoAvionics